It happens every year, the Midsummer's Fly Tying afternoon. It's usually a hot afternoon, the recreational boating fleet is finding its way out in the harbor and bay, and I sit at my table tying some flies to re-load my fly box for the upcoming charters.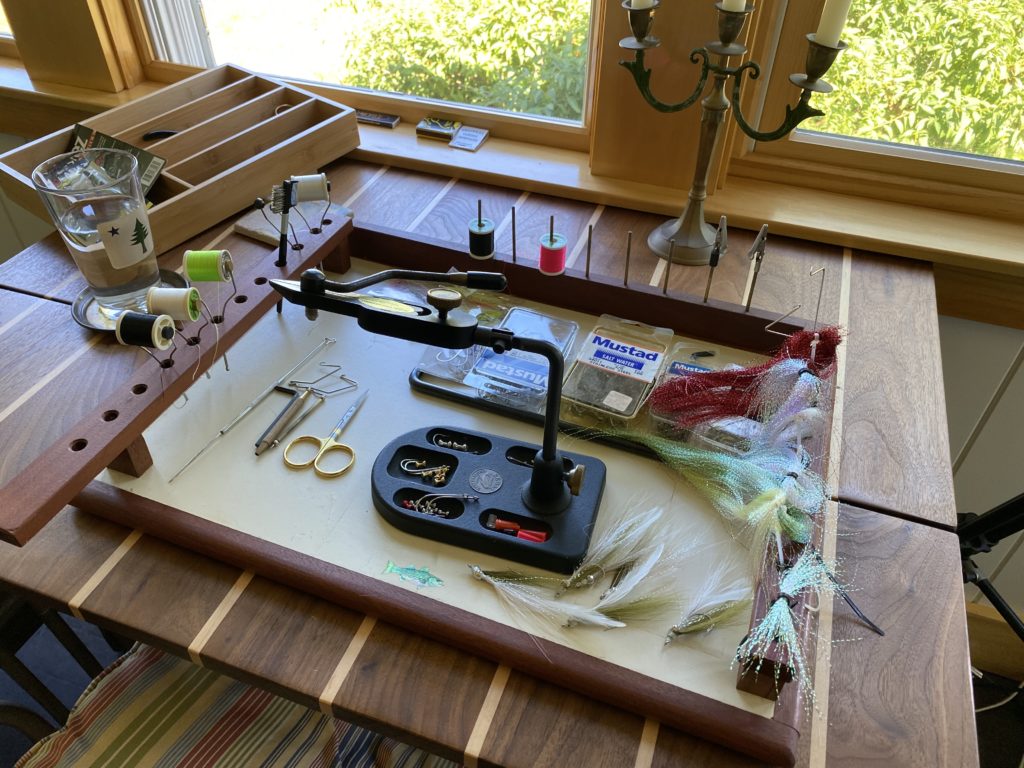 There are a lot of theories when it comes to flies. A client recently told me that everybody's preferred fly is the fly that catches the most fish. Of course the one that catches the most fish is going to be the one that is most often tied onto the end of your line. There's some logic to that reasoning.
I rarely change my fly. That's not one hundred percent true, sometimes I tie on a gurgler or other surface fly simply because there is nothing more fun that watching a surface strike, even by a small striper. Nevertheless, my go-to fly is the infamous clouser fly (invented by Bob Clouser).
This season started out with the usual quiver of chartreuse and white clousers. However, early in the season I switched back to my old favorite olive and white clouser. Why did I do this? I'm not sure. After all, it is my belief that it's not so much the color of the fly that matters, but rather the movement of the fly.
I like the clouser fly because its weighted eyes cause it to dive when you pause your strip. On the strip, the fly darts forward as though escaping the jaws of the striper. This action resembles that of the sand lance (or sand eel) that is one of the most common food sources for the striped bass.
MIdsummer's Fly tying
I cannot tell you how many times stripers eat on the pause (or the dive) of the clouser fly. As a fishing guide, I have a tendency to demonstrate a cast, or a strip, from the bow of the boat. Often, in mid demonstration I allow the line to go limp (as I describe one thing or another) and the clouser to dive. Often, when I begin the strip again…
THE PAUSE IS A VERY IMPORTANT ELEMENT IN THE STRIPPING ACTION.
…and BOOM!, a fish will strike and/or hook itself to the fly. Likewise, when fishing on the flats, a couple of quick strips after the fly hits the water, a pause, a couple of twitches, then a slow strip is often quite irresistable to striped bass (and to bonefish).
Feeding fish is truly the business of catching. Especially on the flats, and even when the fish are schooled up chasing bait. Fish know their prey, your job as the fisherman is to make your fly resemble that prey. Doing so will definitely land you more fish!
Good luck!!!!!