Have you ever had Striper Thumb? Of course you have. It's that rough skin that devel­ops on the inside of your thumb after you've unhooked a bunch of striped bass. For some, that rough skin turns into a callous.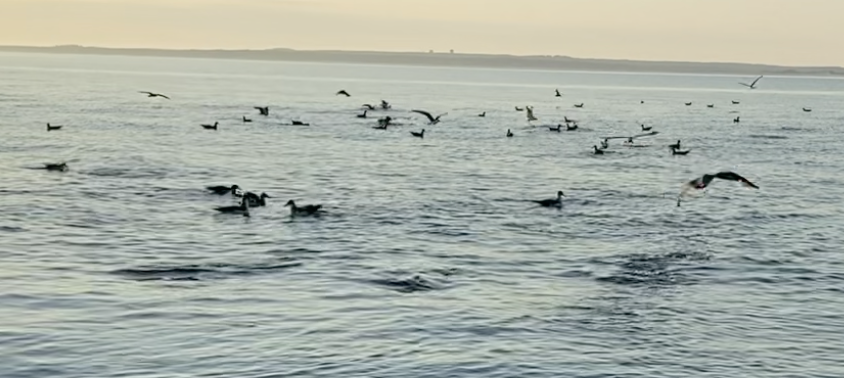 Striper Thumb is most com­mon on days with scenes sim­i­lar to the one above. Birds div­ing above break­ing fish are a great indi­ca­tion that you may get back to the dock with a good case of Striper Thumb.
Unfor­tu­nate­ly, Striper Thumb is some­times accom­pa­nied by hook scratch­es. I'm an expe­ri­ence striper guide, and I have released a lot of fish. Nev­er­the­less, some­times those hooks find their way near my skin caus­ing painful scratch­es. You know it's been a busy few days of catch­ing when I show up at the dock in the morn­ing with band-aids around my thumb and fin­gers. This def­i­nite­ly hap­pens to me dur­ing the fall blitz.
The Fall Blitz Begins
Today was the best day of fish­ing since ear­ly in the sea­son. Birds and break­ing fish were every­where. Where is every­where? You'll have to book a char­ter with me to find out, but suf­fice it to say, there's no replace­ment for insid­er info when it comes to fish­ing. Well, of course there is always dumb luck.