Ok, I could­n't resist. Mass­a­chu­setts' Patri­ots Day that cel­e­brates my famous ances­tor is right around the cor­ner. And yes, the stripers are com­ing very soon.
The slip fees are almost ful­ly paid, the boat is get­ting a fresh wax job and a coat of bot­tom paint and the spring com­mis­sion­ing of the engine and mechan­i­cal parts is immi­nent. After­wards, all lock­ers are wiped clean and the equip­ment re-stored into its var­i­ous hide­aways. The gear gets pre­pared. Spin­ning rods are lined with fresh monofil­a­ment, and fly lines are checked cleaned, while reels of both types are checked and lubed and ready for the 2020 Fish­ing Season.
Of course, with cur­rent state of uncer­tain­ty around just about every­thing, it remains to be seen exact­ly when the char­ter sea­son will begin. How­ev­er, on my cal­en­dar, May 5th, Cin­co de Mayo, my nieces birth­day, how­ev­er you want to say it, marks the first day of striper sea­son on Barn­sta­ble Harbor.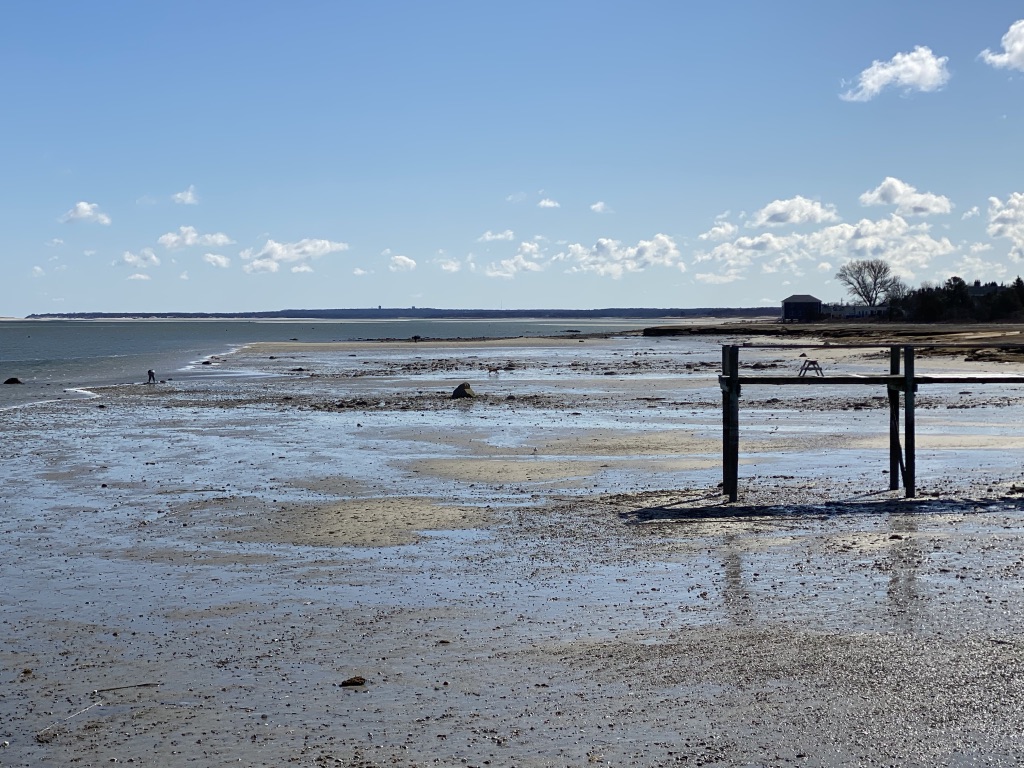 I'm not going to say pre­cise­ly where the first fish show up, but I will say that despite pop­u­lar lore, I think that some of the most mag­nif­i­cent fish of the sea­son are the first ones to arrive.
The oth­er great thing about ear­ly sea­son fish­ing is that there aren't very many oth­er boats on the water. Sure, there are some week­end war­riors that show up. For exam­ple, the guys from upstate New York that love to fish the big nor'east­er storms and then brag about all the fish they caught as they slurp down frosty beers at the Mat­ta­keese Wharf Restau­rant, or The Dol­phin Restau­rant.
These are some of my favorite things about spring striper fish­ing: the antic­i­pa­tion, the fresh­ly primped boat, the new line on the spin­ning reels, and most­ly, the striped bass themselves.
Follow the Stripers
&

Check Out These Resources

Below is one of the On The Water mag­a­zine Striped Bass Migra­tion Maps.
This map is from a few days ago… Here's a link that will help you nav­i­gate to the lat­est map:
STRIPER MIGRATION MAP — ON THE WATER MAGAZINE
Anoth­er great resource while you await the soon com­ing fish­ing sea­son are these pod­casts from the Salt­wa­ter Edge Tack­le Store. BTW, Salt­wa­ter Edge is a great shop for spin and fly fish­ing gear. Bears Den in Taunton is my oth­er go-to source for fly gear. Both these stores have a lot of fly tying mate­ri­als and oth­er fish­ing gear. Both offer Online and Phone Sales. Of course, my local source for all things for spin fish­ing is the Pow­der­horn in Hyan­nis. Andy is a gem and will help even the novice fish­er­man to get exact­ly the right gear. Be sure to men­tion my name when you go to the Pow­der­horn, I need the credit! 🙂
The Stripers are coming…
When we all final­ly get out of the house, let's go fish­ing. I am book­ing char­ters now for any date after May 15th. As my last blog states, we may have to lim­it the num­ber of anglers on the boat to one or two, at least for the begin­ning of the season.
Until then, every­body stay healthy. After all, you would­n't want to miss the 2020 Striper Season!