It's never a great day when your outboard mechanic shakes their head and says "Your motor is toast!" Those were his words last November after a diagnostic test that revealed that three out of four cylinders on my 2005 Yamaha 150 did not even rank on a compression test.
This is bad news any day, but even worse following a global pandemic that impacted supply chains everywhere. Finding a new outboard would be both difficult and expensive. "What would you do if this were your engine?" I asked my mechanic Brian Ackel (Brian's Outboards). "If you buy a new engine I will rebuild this one and sell it" was his answer. So that was my answer as well… "Rebuild this one!"
And the fun began…
Your Motor is Toast!
The first step is to disassemble the engine so that the engine block can be sent to a specialist who will clean up the blown out engine block, rebuild it, and its internal parts. I am not a mechanic so I can't really even explain what is done or to what… However, here's what a google search tells me:
An engine block contains the main components of an internal engine. It houses the water cooling system, crankcase, and cylinders and their components. The use of metal in its construction gives it strength and the ability to efficiently transfer heat from the combustion process to the main cooling system.
So apparently, my entire engine block was rebuilt inside and out. As Brian says, it will be better than new!
Of course, that's just the beginning. As it turns out, the exhaust element of the engine was a mess and so was the lower unit! Basically, the whole engine!!!!!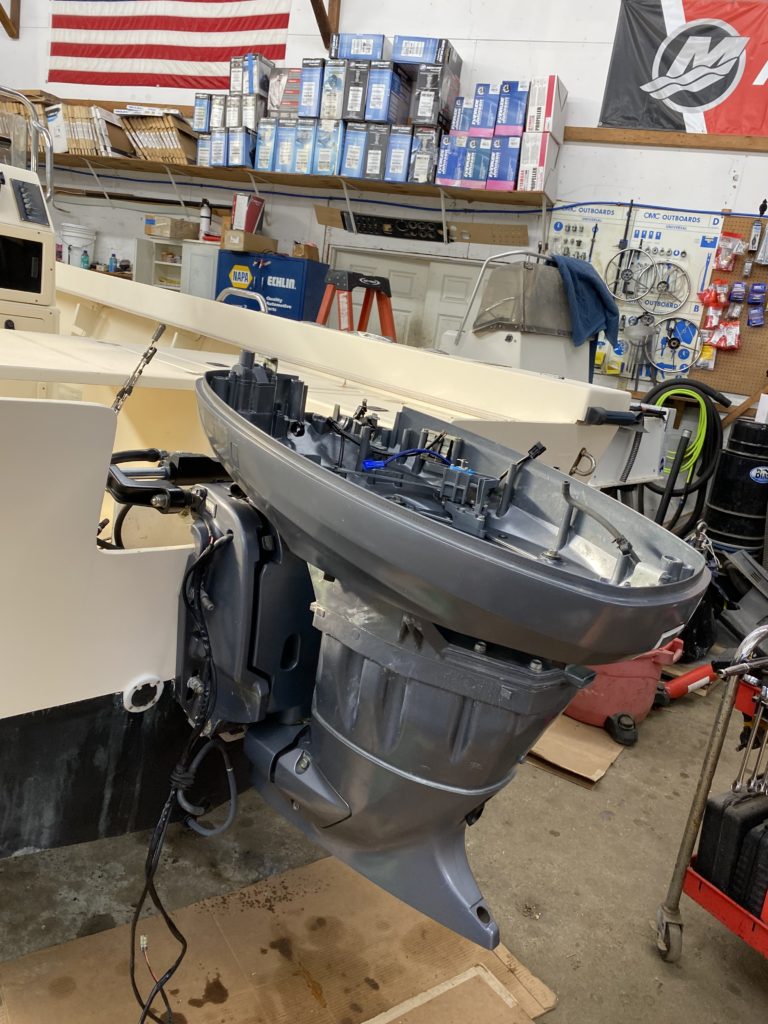 Your Motor is Toast!
This picture is from last Thursday (today is Wednesday 4/5/23). It really seemed like having an outboard for early May charters was a long shot!
However, I am happy to report that yesterday, Brian and I took the boat on a sea trial. And although there will be some minor adjustments made after a break-in period…
ALL WENT WELL! The engine purred like it did when it was brand new.
AND, the cowling (engine cover) still bares the battle scars of any good fly fishing machine cuz those flies can leave a pretty good scar on the fiberglass.
So…let's go fishing!
Word on the street is that the fish will be early this year. I still have trips available in May and June.
Give me a call, text, or send an email. Get on my calendar!!!

508-362-5482